Altina Toy Dogs started 30 years ago when I started with a Yorkshire Terrier named Amber. I showed Yorkies with many of my dogs winning RCCs, JWs and Best of Breed at Paignton with Velvet China Blue at Altina, also Best Puppy at Crufts with Altina's Slave Master.
In 1991 I purchased Gogo, a Pomeranian brood bitch from the Veltuds kennel for my daughter Miranda to show in junior handling, and thus the bug of owning Pomeranians began! Gogo was a beautiful pom but was a little too big for championship shows, so I purchased a dog Veltuds Teddy Boy at Altina and at the same time I was given Teddy's mother who had never been shown.
At her first show Nono (Thelbern Nono Nannette) won Post Grad, Limit and Bitch CC and then Best of Breed. I then won 2 RCCs with her. At Crufts 1995 Nono won the Bitch CC and Best of Breed. She was made up that year, she also won the Bitch CC at Crufts 1996. She finished with 5 CCs and 5 RCCs. She took her last RCC at 11 years of age. My next Champion was Veltuds Eros at Altina, who had 4 CCs and 3 RCCs. My first home bred Champion was Champion Altina's Apollo he won 4 CC and 4 RCCs, also his JW.SHCM - the first Pom to win this award.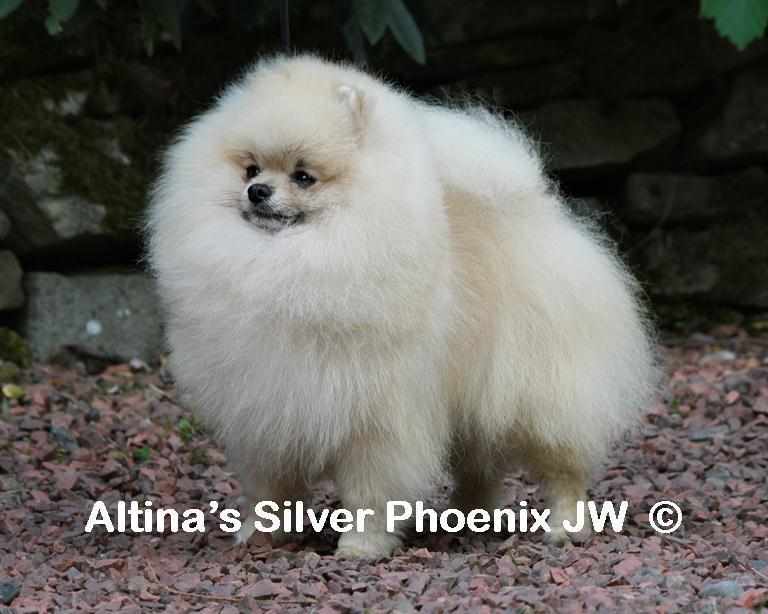 Apollo's daughter was my next Champion, Champion Altina Selene 8 CCs 7 RCCs who also had her JW.SHCM. Celeste, Champion Altinas Truly Celestial JW SHCM, 12CC 4RCC and Champion Altinas Silver Phoenix JW,SHCM 4CC 4RCC (my third homebred Champion) who also won the dog CC at Crufts 2011. I have had several dogs who nearly got their championship, including Veltuds Eyecatcher at Altina (2 CCs), Veltuds Kentucky Gold at Altina 2 CC and 3 RCCs.JW.SHCM. Altina's Andromeda who has won 1 CC and 2 RCCs JW SHCM. Annie also won the Toy Puppy Group at Bournemouth Championship Show 2007. My puppy dog Altina's Silver Banner JW. won Best Puppy In Breed at his first championship show, plus many Best Puppy Groups at Open Show level and his sire Altinas Silver Comet JW 1CC 3RCC was top puppy in breed 2010.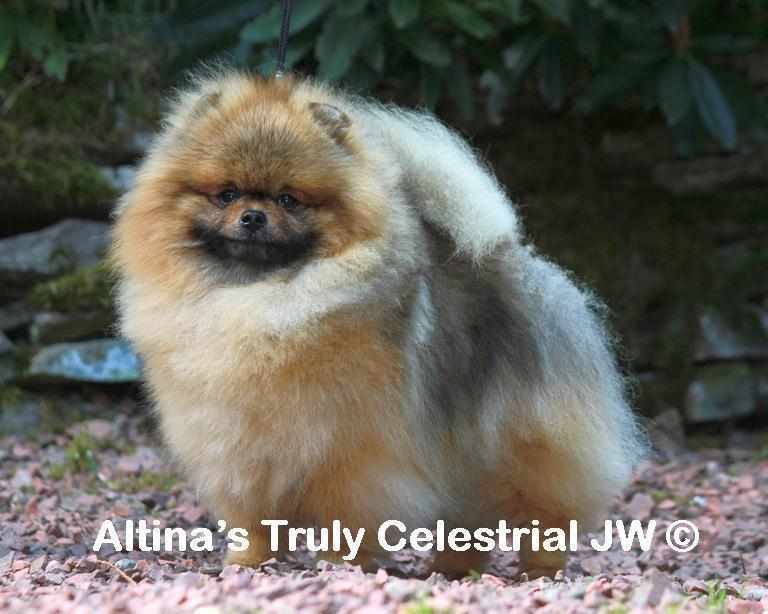 There are many of my dogs out there being shown by their owners, winning at championship level. My daughter Miranda and granddaughter Lauren also show dogs so this really is a hobby for the whole family to enjoy!
My first import was a black dog from spain Aizens Black Thunder At Altina, BT started his shows with a bang,winning Best Puppy at Birmingham National and Toy Puppy G2. Then Best Puppy at Bath with the Res CC and Toy Puppy Group one as well as Res Best Puppy In Show. Also at The Scottish Pomeranian Club he won Best Puppy In Show. He finished with Best Puppy in breed at Southern Counties. BT started his adult life at his first show winning 1st Junior Dog,and Res CC.
My import Ch Misteriya del esto Orion at Altina was runner up top pom 2014 and my boy Ch Kamis mystical legend of brooklyn was Top Pom 2015 and was Top Male Pom 2016 and reserve Top Pom too! Our newest female champion Prada aka Pomstyle Prada Infusion managed to get all three of her CCs in under a month! Paignton 2018, Bournemouth 2018 and Richmond 2018. 2019 was a great year for us too! Ch Baromar Dubonet at Altina won UK's Top Pomeranian 2019, Altina's Olaf was Top Stud Dog 2019 and Altina's Cherry Bee was Top Brood Bitch 2019.